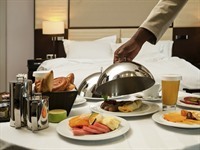 No minimum stay or extra charges for our room services
Room service is part of our hospitality and a service not found in any other bed and breakfast or hotels in the whole of south Yorkshire, never mind Sheffield, this we are proud to say, unless one is prepared to pay a premium service
At Heavenly Nights Guest House, we want to ensure your stay is as comfortable and stress free as much as possible. Whether it's for a single night or for a long duration, nothing is too much, every guest is an individual with different needs.
Our room service is exclusive and inclusive from the very moment that you arrive, whether it's a choice of cold soft drinks or juices, breakfast in bed, lunch or an evening meal or just a top up of our complimentary choices of intercontinental breakfast
A wake up calls for all your important schedules of the day or laundry to wash and dry your clothes our room service is available and more importantly free and available till late evening, thus freeing your time to carry on working, socialising with friends and families, saving you precious time and moments.
Or to simply reserve a taxi to collect you for your day ahead , we have you covered, after all your more than just a guest your part of our family.